Boost Breakfast with Wheat Protein
Study after study continue to show us that breakfast is the most important meal of the day and that consuming protein earlier in the day helps to keep us fuller longer. However, as consumers become busier and busier, skipping breakfast often becomes a habit. On any given day, close to 40% of adults, 32% of children (8-14), and 30% of adolescents (15-18) skip breakfast (Baum et al., 2017). On-the-go breakfast options are easy to grab as we head out the door. But are they really the best for us nutritionally?
The facts are not new and we all understand the importance of breakfast. The challenge is taking traditional breakfast foods (bars, pancakes, muffins, etc.) and packing them with protein. Adding protein to baked products can yield tough and chewy foods that require you to constantly remind yourself its good for you as you force yourself to finish it. Formulating with our GemPro wheat proteins can positively impact the nutrition label without negatively effecting the product's texture.
From dry mixes to finished frozen products, pancakes and waffles are a big part of our breakfast category. They are a blank canvas and a vessel for both sweet and savory ingredients. The lean nature of the formula is both a challenge & opportunity for product developers. Some types of protein can tend to make the product tough and chewy. Our GemPro 3300 hydrates quickly and works to pull air into the pancake batter. This helps to give height to the pancake or waffle and maintain its typical light and airy cell structure. Whether on their own or as part of a breakfast sandwich, high protein pancakes and waffles made with GemPro 3300 will be sure to please.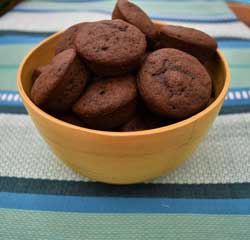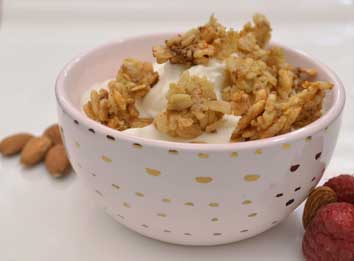 Popular for an on-the-go lifestyle, granola bites and other similar products can be fortified with wheat protein using our non-sugar binder, GemPro Tack. Typically, they would be held together by a sugar-based binder. For those looking to ditch the sugar at breakfast time, GemPro Tack is a great alternative. It's easy to use and is free of flavor. This allows for the particulates and inclusions to determine the flavor profile.
When developing your next breakfast product, think about incorporating one of these wheat protein isolates to boost the nutrition. If you have any questions or would like further information, reach out to our applications team for personalized direction. Our innovation lab can help jumpstart your product development process.
References
Baum, J.I., Gaines, B.L., Kubas, G.C., Mitchell, C.F., & Russell, S.L. (2017 Oct 1). Educational nutrition messaging at breakfast reduces snack intake and influences snack preferences in adult men and women. Appetite, 117. pp. 67-73. doi:https://doi.org/10.1016/j.appet.2017.06.009