(Cinnamon) Roll-ing along with Wheat Proteins
Deciding which ingredient to choose when formulating a new product or optimizing an existing one can be overwhelming. We understand that it can be difficult to decide which protein to use in a muffin versus a whole wheat bread and are here as a resource to guide you in selecting wheat proteins for your latest project.
Working on the applications side of ingredient development is similar to being a detective. We're always on the hunt for what's on the horizon and how we can apply our ingredients to fit within upcoming trends. Other times we take one product and develop multiple formulations, each utilizing a different protein, gluten, or starch. Today we will be examining one of my favorite baked goods to both make and eat - a cinnamon roll. Being a rich dough, processing cinnamon rolls is different than loaves of white pan bread. Rich formulations come with their own set of challenges and difficulties, but that's where we come in to help.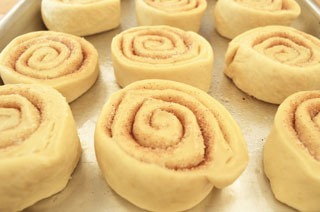 Sheeting of cinnamon roll dough is one of the most important processing steps, but also one of the most challenging. If your dough is too relaxed or weak, it'll tear on the rolls. But if it's too elastic and stiff, the final product will be more bread than smear. We can't have that!
If you're experiencing problems at the sheeting stage, I would recommend using GemPro Extend at 1-2% on flour weight. GemPro Extend is a variation of our traditional vital wheat gluten but Extend allows for extra extensibility within your dough. It will provide strength to prevent tearing, while allowing the dough to relax and flow to your desired thickness.
Maybe you're looking to reduce cost within the formulation and egg replacement is the path you're headed down. Take a look at using GemPro 4400 as a one to one replacement egg based on solids. In this instance eggs are providing tenderness to the final product as well as acting as an emulsifier for all the extra fat in the formulation. A benefit for replacement with wheat protein is within the protein's ability to bind water. They keep the product moist which is especially helpful in the case of refrigerated and frozen doughs.
A third formulation utilizes our wheat starch, GemGel 100, within the cinnamon roll icing. Wheat starch adds a little bit of body to help it flow and hold onto the roll better, keeping a smooth texture without getting too thick. It also adds some shine and brightness to help make the product look even more inviting and indulgent.
If you're curious about how you can reformulate to receive the benefits of our GemPro Proteins, reach out to us at info@manildrausa.com. We would be happy to ideate and innovate alongside you.