Eat More (W)Hole Foods
Yeast or cake? Glazed or filled? Fritters or holes? The possibilities of the famous one-handed breakfast cake are countless. The perfect doughnut has a golden, slightly crispy crust, a soft cake-like interior texture, and a sweet flavor that can be enhanced by different spices and glazes. The ease and versatility of the doughnut allow bakers and manufacturers to produce flavors like maple bacon, cinnamon sugar, frosted with sprinkles, or cream filled to appeal to a wide range of consumers. Though flavors abound in the doughnut world, the favorite flavor amongst Americans today is the original glazed doughnut. National Donut Day was recently celebrated on June 4th, 2021 with chains like Krispy Kreme and Dunkin Donuts offering up free donuts for customers. But did you know that National Donut Day has been around for over 80 years?
To support WWI troops in France, Salvation Army volunteers prepared donuts for soldiers by frying donuts using battle helmets. These volunteers were nicknamed the "Donught Lassies" and in 1938, the Salvation Army began the tradition of honoring these volunteers by commemorating the famous pastry that they served overseas. (https://www.mentalfloss.com/article/88294/why-are-there-two-national-doughnut-days). The annual celebration of this holiday lives on in hope to raise awareness and donations for The Salvation Army, and to honor veterans and volunteers throughout the generations (https://blog.salvationarmyusa.org/nhqblog/news/the-salvation-army-celebrates-national-donut-day).
Popular brands like Entenmann's and Hostess have been offering up packaged, bite-sized versions of American favorites like powdered sugar and chocolate covered since popularity of the donut boomed after the Great Depression. Americans love the bite size version of this sweet treat, and adults and children alike recognize the flavor of these two iconic products.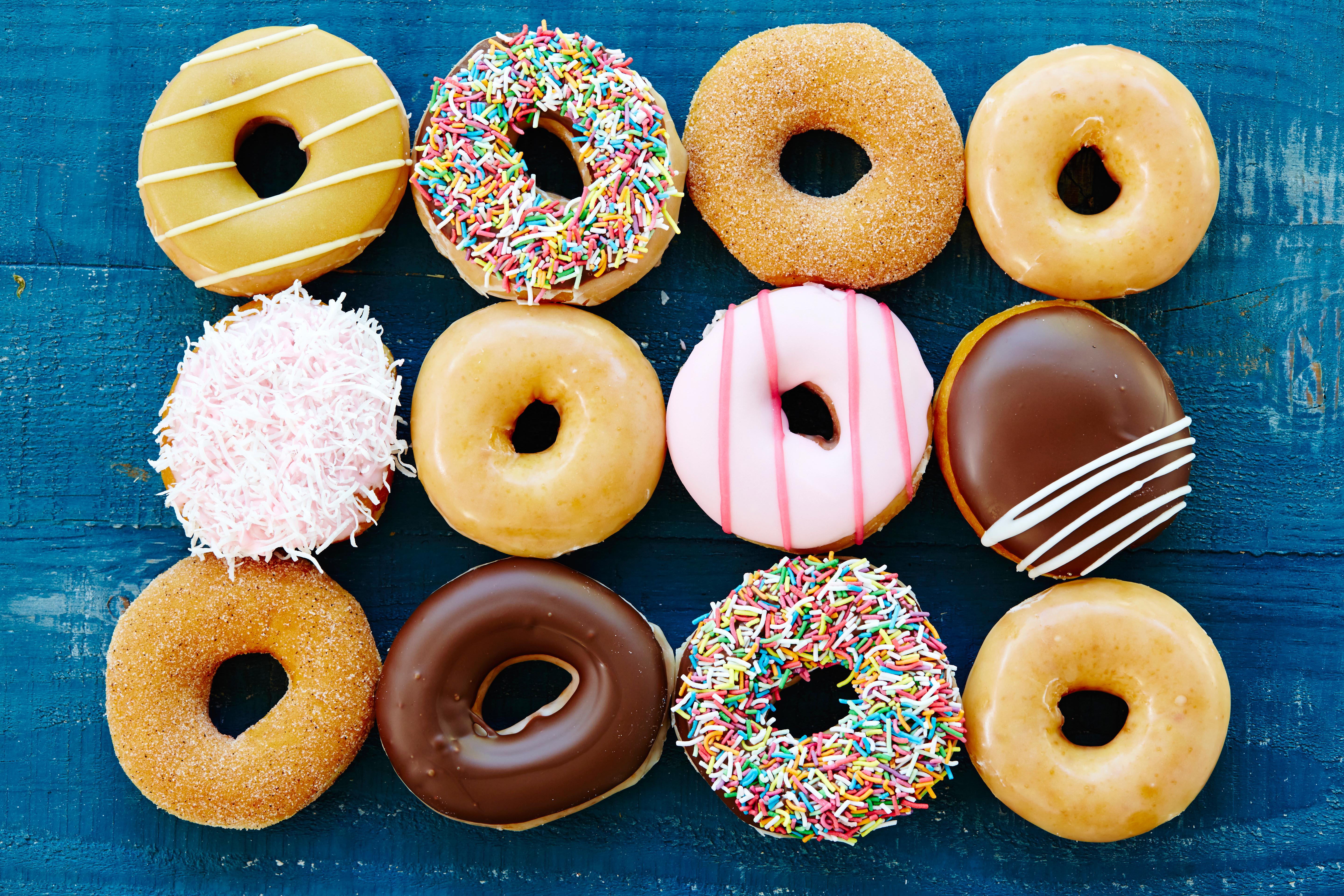 Companies like Krispy Kreme and Dunkin Donuts have shared free samples of their beloved glazed donuts with the country on the first Friday in June for many years now. Outside the window of this holiday, the Doughnut industry is expecting sizeable progress in the next few years. According to Technavio, the donut market is anticipating to grow $5.69 billion between 2020-2024 with roughly 34% of that market growth stemming from North America alone (https://www.technavio.com/report/doughnuts-market-industry-analysis).
As consumer preferences continue to change, high-protein and better-for-you options are currently in high demand as consumers look for more nutritious options that support a healthy lifestyle. Brands like Wow! Protein Donuts offer single serve, packaged donuts that contain 11g of protein per 66g serving, and less than 4 g of added sugar. Popular protein bar brands like ONE and Quest have even created donut flavored protein bars that offer 20 grams of protein and less than 5g net carbs per serving. As more consumer brands strive to meet these healthier options, anticipated growth in the "keto" or high-fat, low-carb lifestyle category to grow from $9.6 billion in 2019 to $14.8 billion in 2027. (https://www.bakingbusiness.com/articles/53853-brothers-building-high-protein-donut-brand). How can you do the same? Are you looking to step up your donut game?
Did you know you can use Manildra's proteins and starches to enhance your donut? GemStar starches can help provide body, control consistency, and promote texture in a cake-style doughnut. GemGel 100 sets the perfect structure yet maintains moist, tender eating properties. Gemstar 2800 can help control moisture and fat migration that will help with crumb softness.
GemPro proteins can help provide aeration and film formation in both a cake and yeast doughnut system. GemPro 3300 can help promote softness, replace eggs, and boost protein content in a baked doughnut application. It can also help increase shelf life in pre-packaged doughnuts through its film forming capabilities.
Do-nut worry about reformulating your donut formulation alone, let our experts at Manildra help you today!