Have No Fear, GemPro Tack Is Here!
Did you know that almost all granola, bars, and clusters are held together by sugar? Well, not for long! The research team at Manildra has developed a fruit and nut cluster that is created with a no sugar binder. Using GemPro Tack, you can create a wholesome, portable snack in a totally new way. The fruit and nut cluster is just one of many flavor options that can be created with GemPro Tack. This product can be used to create a range of foods from sweet to savory. The GemPro Tack binder can also be used with sugar to optimize sweetness, but it does not rely on sugar for the binding method.
Three types of GemPro Tack are available. Our standard GemPro Tack was developed with the intention to replace sugar, not add protein, so it has a lower protein content. The GemPro Tack 50 will give a bit more of a protein punch with 50% protein. If high protein is preferred, the GemPro Tack 85 can help you reach that goal with 85% protein. Each have similar binding characteristics and finished products.
Use the procedure below to create a fruit and nut cluster with no sugar.
Fruit and Nut Cluster Procedure:
| | |
| --- | --- |
| Ingredients: | Amount in grams: |
| Mixed Nut Blend | 170.0 |
| Dried Cranberries | 60.0 |
| GemPro Tack | 28.5 |
| Oil | 3.7 |
| Water | 22.3 |
| Salt | 0.5 |
Procedure: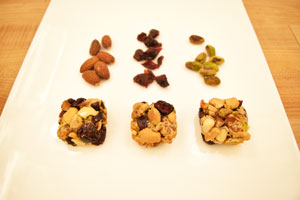 1. Combine the binder ingredients (GemPro Tack, Oil, Water, and Salt) in a mixing bowl with a paddle attachment.
2. Mix on medium for 2 minutes.
3. Scrape the bowl and mix for an additional 5-6 minutes.
4. Add in the particulate mixture (Mixed Nuts and Dried Cranberries) and beat for 30 seconds.
5. Press into desired shape and bake at 350 F for 12-14 minutes.
If slight sweetness is desired, try adding back sugar, honey, or other syrups gradually until you reach the chosen sweetness level. While most granola contains an excess amount of sugar, GemPro Tack lets you, as the developer, have more flexible options.
No sugar equals no guilt! Whether you are creating a sweet treat or portable snack, rely on Manildra's GemPro Tack.