Bread with Seeds+Wheat Protein=Better Volume and Texture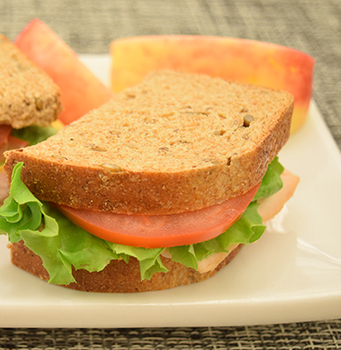 Deciding which ingredient to choose when formulating a new product or optimizing an existing one can be overwhelming. We understand that it can be difficult to decide which protein to use in a muffin versus a whole wheat bread and are here as a resource to guide you in selecting wheat proteins for your latest project.
When talking to customers about adding protein to products, let's say it's bread, a particular image comes to my mind.
With each percent increase it's like adding another block to the pyramid. How many more blocks can be added until the whole thing comes tumbling down? How much protein can be added before the product is no longer appealing and manageable?
This mental image illustrates why many developers may be wary about formulating with protein. It's an intimidating beast to tackle. And that's why we are here to help. This beast is what we tackle every day, providing us with the knowledge to share to make adding protein more manageable and friendly.
Adding protein to a bread formulation requires a delicate balance between protein, palatability, and processing. A combination of proteins is typically a great option to achieve the right structure with the best eating quality.
Our Super Seedy Bread features both our, GemPro HPG and Gem of the West Vital Wheat Gluten. Using the two in combination allowed us to achieve the right balance of protein and strength. With the addition of particulates, in this case seeds, the gluten matrix needed to be fortified with GemPro HPG to account for the extra disruption during mixing. Our GemPro HPG is a more concentrated form of gluten with 90% protein instead of the typical 75%. After making our traditional vital wheat gluten, we put it through an extra washing step to further purify the protein.
The current formulation is mixed as a straight dough but could be altered to be used as a sponge and dough. If doing so, we recommend adding the GemPro HPG to the sponge side so it has a longer fermentation time to hydrate and maintain functionality.
Super Seedy Bread - Featured Product: Gem of the West VWG & GemPro HPG
| | | |
| --- | --- | --- |
| Bakers Percentage | Ingredient | Batch Weight (g) |
| 100.0 | Whole Wheat Flour | 500.0 |
| 79.0 | Water | 395.0 |
| 3.0 | Yeast | 15.0 |
| 6.0 | Gem of the West VWG | 30.0 |
| 3.0 | GemPro HPG | 15.0 |
| 9.0 | Granulated Sugar | 45.0 |
| 3.0 | Salt | 15.0 |
| 2.0 | Soybean Oil | 10.0 |
| 5.0 | Molasses | 25.0 |
| 0.01 | Ascorbic Acid | 0.05 |
| 8.0 | Rye Flour | 40.0 |
| 2.5 | Sesame Seed | 12.5 |
| 6.0 | Flax Seed | 30.0 |
| 9.0 | Sunflower Seed | 45.0 |
Procedure:
Mix all ingredients for 1 minute on 1st speed.
Mix on 2nd speed for 8 minutes or until full gluten development.
Let the dough rest for 10 minutes.
Scale to 700g pieces and round to degas
Let rest for 10 minutes.
Mould and place in cottage pan.
Proof for 50 minutes.
Bake for 22 minutes at 400oF.
As you formulate your new product, reach out to Manildra to learn how wheat proteins can enhance the texture, nutrition, and rheology.