National Muffin Day!
Happy National Muffin Day! I noticed several posts online today about it being National Muffin Day. A quick googling confirmed that "National Today" has, in fact, dubbed February 20, 2019, as National Muffin Day in the US. What does National Today love about National Muffin Day? They come in many varieties, they are easy to make, and they are fun to eat. https://staging-nationaltoday.kinsta.com/national-muffin-day/
Three solid things to love about muffins! Let me share with you three solid benefits to using wheat proteins in muffins.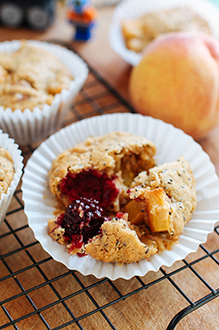 You can use wheat proteins to replace part or all of the eggs in a muffin.
GemPro Plus provides the resiliency and structure needed to replace eggs in a muffin. This wheat protein has just the right balance of strength and tenderness to give volume without a spongy texture, saving money and meeting a need in the growing vegan market.
You can optimize the texture of your muffin using wheat protein.
Have you been trying to create a specific texture in your muffin but have not been able to dial it in just right? Our expansive range of GemPro proteins can either provide a more tender bite, build more strength and body for packaging and shipping, or balance batter viscosity to control particulate dispersion.
You can create a delicious, tender high protein muffin using wheat protein.
Developing a high protein bakery product without the taste and texture of a "high protein bakery product" can be challenging. By using wheat protein either on its own, or in a blend of proteins, you can create a high protein muffin with the same eating characteristics as a traditional gourmet muffin.
If you are interested in learning more about wheat proteins, would like to receive a spec, a sample, or a starting formula, please let us know!
P.S. Tomorrow is National sticky bun day if you need a reason to enjoy a sticky bun 😊