Addressing Clean Label with Wheat Proteins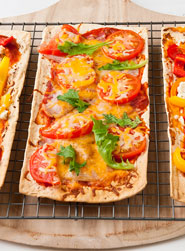 It seems that everywhere we go in the food industry today we see or hear something about clean label. Whether it is clean label bakery or clean label beverages, the term has become nearly ubiquitous.
We know that clean label includes ingredients that are recognizable and easy to pronounce, no artificial ingredients, an expectation of healthiness. The term clean label can include everything from supply chain to ingredients. But what does it really mean for the food industry? Is it a way to differentiate your product? A way to stand out on the shelf? Or are we on a path to clean label being a consumer expectation. The cost of doing business, if you will.
A recent article in Prepared Foods, Clean Supreme, July 2017, sites trend lists dating back to 2008 which include a variation of clean label. The idea has really established itself in the market. The article continues with, "clean and clear label is now targeted – by consumers and manufacturers alike as the new global standard."
As an ingredient supplier Manildra is here to help support product formulators needs. We want our ingredients to be the right tool in the toolbox as you create or reformulate your products to meet these label demands.
Manildra's primary protein focus is wheat. It is the root of all of our ingredients and specialty products. One of the benefits of wheat is that it is a non-GMO solution. And it fits very well bakery application, both from a label and functional perspective.
Manildra's wheat proteins and starches can be used to provide an array of functional benefits. The GemPro® line of proteins can be used to boost protein – a macro nutrient many consumers are looking for. When used to boost protein – either on its own or with other protein sources – it also provides functional benefits ranging from maintaining softness over time or building the structure and volume in baked products. This dual purpose reduces the need for additional ingredient, thereby simplifying the label.
Several GemPro products improve extensibility in doughs, replacing the need for reducing agents. GemPro Extend can structure while providing extensibility for those applications where you still want some volume or chewy bite. GemPro Ultra can be used strictly as a reducing agent to replace ingredients like l-cysteine.
If you are looking for improved rheology, texture, or nutrition – especially in bakery and snack– wheat proteins are a solution for you.
The same issue of Prepared Food that was discussed earlier has an interview with Chef Rob Corliss who states "Three of the biggest macro lifestyle trends of 2017 and moving forward are clean label, plant-based protein, and crave-able wellness."
All of which can be addressed in different ways using Manildra's GemPro Collection of proteins.
Let Manildra help you as you look to tackle the clean label challenge in your food products.