Bars and clusters without the sugar? You bet!
"More meals are being eaten in the car versus around the dinner table."
"Generations keep getting busier and busier."
"Millennials don't cook."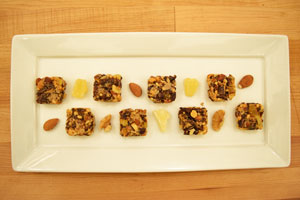 Marketers have been using these phrases to drive product development for awhile now and the range of new product rollouts are evidence of that. As society becomes more mobile, our food needs to adapt to remain relevant for the changing lifestyles. The bar category, for example, has already been innovating and adapting to fit within this trend with numerous brands having bar types on store shelves. But what seems to be missing is a bar that is exclusively savory. And the hold up is in the binder. Our research team developed a patent-pending protein blend, GemPro Tack, for use as a no-sugar binder in new, on-the-go bars and bites.
When making bars or other products using a sugar binder, the sugar and water mixture is heated in a kettle until it reaches the desired temperature and is then incorporated with the particulates before being allowed to harden and set. The requirement to reach a certain temperature leaves little room for error and can be difficult to monitor on the production floor.
GemPro Tack is a flavorless binder that is developed more like a dough than a syrup. No specific temperatures to meet here! GemPro Tack and a few other ingredients – such as salt, oil, and flavors – are mixed together until the mixture becomes fluid and tacky. From there, particulates and inclusions are skillfully mixed in until everything is evenly distributed and then the bars are formed and baked. Binder fluidity and consistency can be easily adjusted to adapt to a wide array of particulates. A more fluid binder is suggested for light particulates such as puffed cereals, grains, and seeds and a more viscous binder is recommended for heavier particulates like nuts and dried meats.
Our applications team has developed numerous formulas with GemPro Tack. From jerky bars to reduced sugar granolas this unique binder system allows the particulates and inclusions to contribute all the flavor. Developers don't have to worry about masking the sweet flavor in a savory bar and nutritionists will appreciate the lack of an added sugar component on the label. In the end, consumers are left with a healthy snack that can be eaten wherever and whenever.
Reach out to our team to get more information, samples, or formula ideas using GemPro Tack.