Now Playing: GemPro HPG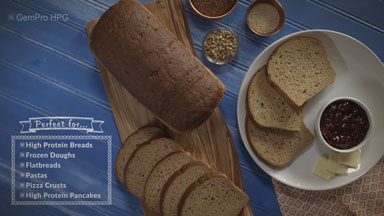 The countdown is on! 8 weeks until IFT! Each week we will bring you details about one of our eight proteins in the GemPro line of proteins. That's right - eight unique wheat proteins with distinguished, functional benefits designed to help you solve your texture, nutrition, and rheology challenges.
SPOILER: We have something new to show you! So stay tuned.
The first protein in the range is GemPro HPG. This is the strongest protein out there! With 90% protein and produced by simple, mechanical washing techniques, GemPro HPG is an excellent clean label protein. Use it to add tolerance, volume, or protein. It is known to hold up to 190% water so an absorption adjustment will be needed.
GemPro HPG is highlighted in the video as part of a Super Seedy Bread. When particulates such as whole grains or seeds are added to dough they can distrupt and degrade the gluten matrix. The concentrated gluten strength of HPG helps to maintain the need strength to process and produce an optimized loaf.
As you are developing new whole grain or seeded breads reach out to the Manildra team to learn more.