Improving Tortilla Quality with Wheat Protein
Tortillas: A portable lunch option. A nutritious "edible food packaging" that also opens doors to unique texture, flavor, and color enhancements. A versatile food that allows you to fold, fill, and enjoy an infinite number of flavor combinations. To make a great tortilla the dough needs to be extensible for pressing while the finished tortilla maintains flexibility over time. Tortillas should be smooth and flexible, yet strong enough to hold heaps of fillings. Wheat proteins are an exceptional choice when enhancing the processing and textural attributes of tortillas.
What funct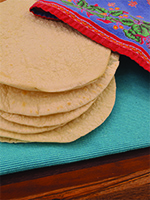 ional benefits do Manildra's GemPro proteins bring to tortillas?
To determine functional similarities and differences between wheat proteins, a standard tortilla formulation was used, evaluating three different wheat proteins for impact on dough rheology, processing, and 21-day shelf-life quality.
Each variable was tested at 1% Bakers percentage in a flour tortilla dough with varying mix times. The variables were tested at mix times of 5 minutes, 6 minutes, and 7 minutes.
The spread index was calculated by dividing the diameter by the height, averaging for six tortillas. Wheat proteins improved spread, especially when mix times were optimized. This direct comparison indicates that wheat protein can be used to improve press and sheeting qualities in tortilla dough.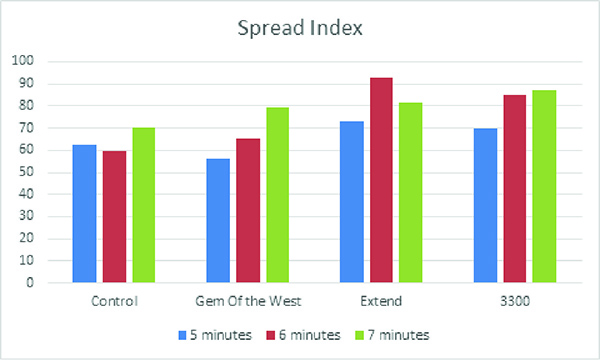 The Perten TVT Texture Analyzer was used to analyze the tortillas with the standardized tortilla texture method from AIB. Texture data indicates the optimum mix time for each protein is slightly different. While the control required an optimum mix time of seven minutes, the GemPro Extend and GemPro 3300 required slightly shorter mix time, at 6 and 5 respectively. The larger drop in force over time by the vital wheat gluten indicates it may have not been mixed enough, even at 7 minutes. GemPro Extend maintains a texture most similar to day one on day 21 as compared to the other proteins.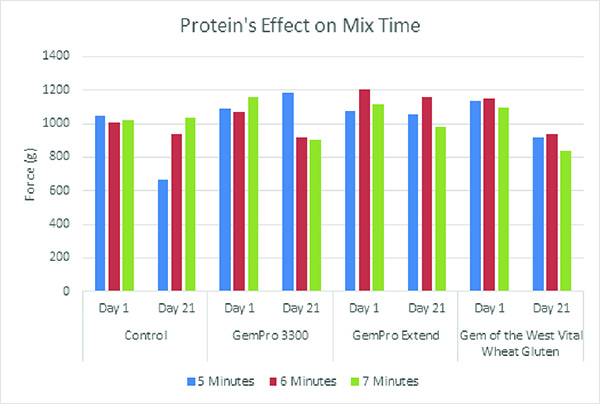 After evaluating both the tortilla dough and final products is was determined that Manildra proteins assist with maintaining product rollability and strength over time. The data showed that while the control tortillas tore easily and folded instead of rolled at the end of the 21 days, the tortillas containing Manildra proteins, still had the ability to roll and showed resistance to tearing.
Protein fortification prevents the tortillas from drying out which allows them to maintain strength throughout their shelf-life. GemPro Extend nicely balanced the need for extensibility in processing, while maintaining the moisture retention and rollability through out shelf life.
For more information on these results or other information on GemPro Wheat proteins contact our R&D team today.