Now Playing: Gem of the West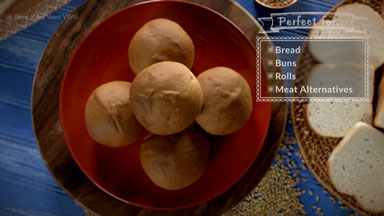 The countdown continues! Seven weeks remain until IFT and we are just getting started on unfolding the versatile benefits of this range of wheat proteins.
Today we get to the workhorse, the industry standard for vital wheat gluten – Gem of the West Vital Wheat Gluten. Gem of the West is known for its consistent gluten quality. Our process ensures that your gluten functions the same day after day, with great vitality. Vital wheat gluten is critical to provide tolerance and stability in a range of high speed bakery operations. At Manildra we are keenly aware that the success of your products depends on the reliability of ours. Manildra works tirelessly to meet the high quantity and quality demands for customers in the baking industry, as well as other industries.
Manildra Group USA has a strong history of being innovative and forward thinking, providing not only ingredients but solutions, key to being a relevant partner to today's food manufacturers. In our Hamburg facility, we were the first to market in organic gluten in North America in the early 2000s, providing a solution to the organic market that would not significantly expand for another decade.
Visit us booth number S2016 at IFT to chat with our team about how wheat proteins can help you.