Now Playing: GemPro 4400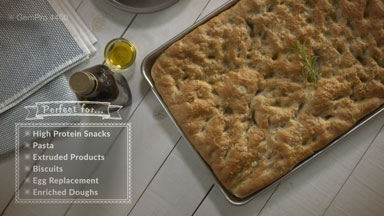 A versatile and diverse protein, GemPro4400, is up next on our weekly countdown to IFT.
The evolution of the baking industry is something that can be both seen and tasted. Baked goods are diversifying and with the change, comes the evolution of baking formulations and ingredients. GemPro 4400 is one of our most diverse isolates in that it can be used in an array of products from breads to cakes to cookies, and even pasta.
GemPro 4400 can be used to provide resiliency in a cake for an egg replacement application or in a bread dough to provide a little relaxation for machinability. Have we sparked your curiosity? Reach out to our applications team for further information.