Now Playing: GemPro Prime-E and GemPro Prime-W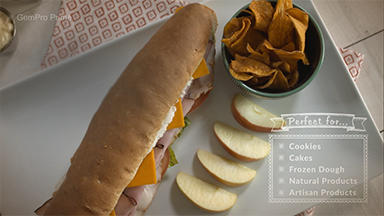 GemPro Plus, and now it's time to talk about our two other clean label proteins, GemPro Prime-E and GemPro Prime-W.
Our all-natural production process and simple ingredient declaration gives you, our customers, peace of mind that GemPro Prime-E and GemPro Prime-W are well suited for both conventional and organic clean label formulation.
With similarities to GemPro 3300, GemPro Prime-E is great for dough systems where you're looking for extra extensibility without loss of strength.
In the video, GemPro Prime-E is featured in a sub bun because of the importance of extensibility and pan flow in bun and roll applications. The isolate relaxes the dough for easier machinability but also helps to maintain the critical gluten network as it goes through the proofing and baking processes. And, with a clean flavor profile, you can create a high protein product without imparting a negative flavor.
Finally, GemPro Prime-W also shares similarities with GemPro 3300 but is a clean label protein developed for use in cakes, cookies, and other batter-type applications. It's unique ability to whip encourages batter aeration which brings a fine cell structure and tenderness to the final product.